Welcome back for another weekly dose of Visionary Goodness!
This week we remind all of you of our annual August-September Convention run, this year, counting last week's Washington County Con, we're doing seven shows in eight weeks! Crazy stuff, but, it means lots of chances to catch up with the crew!
We also shine a spotlight on Inkwell Awards with their latest auction, and a new Get Creative spot. Enjoy!
Speaking of Washington County Library Comic-Con…
Thanks to Sarah Hull and all the hard working volunteers that made it such a great show! CCO C. Edward Sellner did another round of his My Comic Life panel, talking about the history, the art form, and skills for working in comics. Thanks to Artway Alliance's Eric Suggs for dropping by and posting a brief video segment from the panel! Check it out below!
Speaking of Teaching Moments…
Visionary is proud to announce that our sponsored Creating Comics courses will be returning in Spring 2018! The courses will now be offered at the University of Maryland, College Park Campus, through the Art and Learning Center! Studio CCO C. Edward Sellner will be starting the partnership October 18th with a workshop offered during a special program, the full course will then debut the second week of February 2018, with eight two-hour sessions. More details will be coming soon, including links to register for the course. In the meantime, feel free to check out the Fall classes being offered now!
---
Visionary loves the arts, not just comics, but all forms of art! Which is why, every once in a while, we will spotlight something really cool we want folks to know about. It may be new releases in books or comics, or upcoming art focused events,  from our partners, friends, or supporters!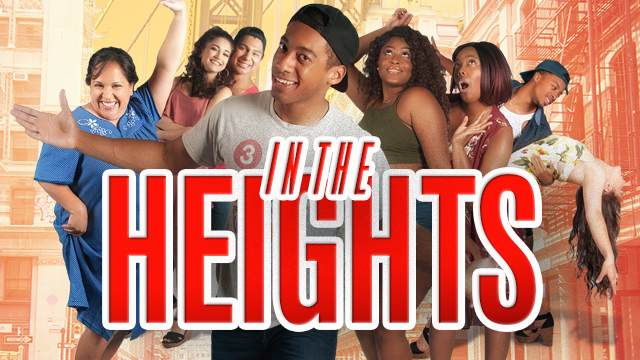 The Annapolis Summer Garden Theater is running a great new show called, In the Heights.
Here's what the Bay Weekly had to say:
"The hottest thing in Annapolis these days isn't the weather but Lin Manuel-Miranda's In the Heights, playing through Memorial Day weekend at The Annapolis Summer Garden Theatre. Under the direction of Darnell Patrick Morris, the same guy who brought us Avenue Q and Hair Spray, this production is so outstanding it's easy to see why the Hamilton composer's show won the 2008 Tony for Best Musical. Here at the confluence of rap, salsa, and Latin pop, the American dream meets exotic choreography in New York City's Dominican barrio to produce a story that transcends race, age and economic status."
August 3-September 3, 2017 :: Thursday-Sunday at 8:30pm
Music & Lyrics by Lin-Manuel Miranda | Book by Quiara Alegria Hudes
Conceived by Lin-Manuel Miranda
Purchase Tickets Here>>
Check out this clip from the opening number!

---
The Inkwell Awards Fundraising Auctions Continue for our Second Week of our 10 Year Anniversary Season!

With 19 listing of original art, signed prints and special multi-signed prints from generous supporters of our non-profit, including Paris Cullins, Matthew Clark, Fred Hembeck, Matthew Dow Smith, Nikkol Jelenic, Kevin Conrad, Bill Anderson with Angel Medina, Joe St. Pierre, Charles Barnett II, Skott Kolin, Richard Case, Afua Richardson, Ryan Stegman, Michael Golden and more!
---
Upcoming LIVE Events
8/19 Dover Comic Con 10am-5pm / Booth 047
@ Dover Public Library
1:30pm – Join CCO C. Edward Sellner's My Comic Life Panel in the Children's Programming Room!
Visionary returns to Dover Comic-Con for the third year mega event! Join Visionary's CCO for his rousing panel on building a comics career, check out all our new releases and enjoy a day soaking in the pop-culture!
8/26 Southern Maryland Comic-Con 10am-4pm
@ Hollywood Fire Department
Visionary returns once more to one of our favorite local shows, the Southern Maryland Comic-Con in Hollywood! Join Visionary's CCO C. Edward Sellner at the Visionary table all day and check out our latest releases, new prints, and other merchandise.
9/1-3 Escape Velocity @ Gaylord Convention Center
12:15pm Sunday – Be Your Own Super-hero(ine) Panel  (Location TBD)
Visionary makes its triumphant debut at the Escape Velocity event with partner Artway Alliance! Join CCO C. Edward Sellner for his fun and exciting Be Your Own Super-Hero(ine) panel on Sunday, and check out Visionary's latest at our booth all weekend.
9/10-11 Maryland Seafood Festival @ Sandy Point State Park
Visionary returns to the best tasting event of the year, the Maryland Seafood Festival for our third year running! In between enjoying the live music and tasting a variety of seafood treats, stop by Visionary's tent to pick up some great reading material and art!
9/22-24 Baltimore Comic-Con @ Baltimore Convention Center

9/22-24 Baltimore Book Fest @ Baltimore Inner Harbor
This is a huge double-header event for Visionary, as we will be at the Baltimore Comic-Con, our own home show, at the Baltimore Convention Center AND at the amazing Baltimore Book Fest just a few blocks away at the Inner Harbor! Come join Visionary's top crew, check out our new releases, new art prints, and other merchandise at either or both events all weekend!
2017 Confirmed Show Schedule
The following are confirmed shows for Visionary this coming year. More details coming as we get closer to each! Click the Event to go to their main page, or the location for map and directions.
10/21 Hampton Comic Con @ Hampton Roads Convention Center
10/23 Superhero Workshop @ Odenton Library
12/9 Ocean City Comic-Con @ Grand Hotel and Spa OC
Where will your vision take you?